Nothing says Happy 4th of July, like a good ole' family trip to Waco, Texas. So my husband and I packed up the boys and took them to a new city for the weekend.
Waco is a cute town that sits along the Brazos River. It's the home of Baylor University, the winner of the 2020-2021 Men's NCAA championship and the well-known football team. Waco is also known for the Magnolia Market, which is a shopping complex that stretches for two city blocks in downtown Waco. If you watch the HGTV Fixer Upper Show, Magnolia is owned by Chip and Joanna Gaines.
Shopping, Culture, Food, Waco was the perfect family getaway to celebrate the 4th of July.
Getting to Waco, Texas
Getting to Waco was fairly easy. We took a flight and flew into Dallas, which is a 2-hour drive to Waco. Similarly, Austin is a 2.5-hour drive. Another option is to fly into Houston and drive 3-hours to Waco. Or you can fly into Waco Regional Airport but it may be harder to find flights.
Waco Mammoth National Monument
As soon as we arrived in Waco, we started our Waco family trip at the Waco Mammoth National Monument. When we got there, there was a backlog of people to enter as it was raining and lightning so they closed for a few minutes. Tickets cost $5 for adults and $3-$4 for kids 4 and older.
The tour at the National Park is normally self-guided but because of the backlog, they took us down in groups with a guide. On the walk down to the museum itself, which was a five-minute walk, our guide gave us quick information on the Columbian Mammoths.
As we entered the museum, we were greeted by this huge painting built to scale of a mammoth, which made me feel as if the museum was huge, but it wasn't. In the museum, there were fossils of the mammoths and more information. But because of the backlog, each group got about 20 minutes to explore everything.
First Evening in Waco
What I loved about Waco is it is an extremely cute and quaint town. Waco is big on street art, so there were cute murals throughout the city. So instagrammable! In addition, everything was walkable, even with twin toddlers.
We stayed at Spring Hill Suites, which was a new hotel that was close to everything.
Magnolia Market
While exploring what downtown Waco offered, we stumbled on the infamous Magnolia Market. It was 6 p.m. when we found it, so we were unsure if we should enter. We did and I'm so happy we went for it. It turns out the restaurants and boutiques close at 6 but the grounds stay open until 6:45.
Magnolia market is the perfect location for a Waco family trip. It has an open, well-manicured field with balls provided by the grounds. Our toddlers happily bounced around, playing soccer with two other toddlers. There is also a baseball field with bats and balls provided.
If you really want to enjoy the grounds and take pictures of the silos and landscape uninterrupted, going at closing is perfect. However, the restaurants and boutiques look amazing and I most definitely want to return to experience them. Tip: If you want to eat at the restaurant, apparently you need to book reservations months in advance. But if you're unable to get a reservation, no worries, there are plenty of food trucks.
Valley Mills Vineyards – First Full Day in Waco
Mama needs her wine! The Valley Mills Vineyard was about a 30-minute drive outside of Waco, one that was well worth the drive.
We pulled up to beautiful oversize wooden doors that I couldn't wait to see what was behind them. In case you're wondering, the boys were with us. I've mastered the art of finding activities for kids at adult events.
We booked our tour in advance; it was $40 per person and included a tour of the vineyard with information on how they grow the grapes and the wine-making process. It also included a tasting of 4 wines, 2 reds, and 2 whites. The wines were delicious and were made with 100% Texan grapes.
The boys enjoyed running through the vineyard and looking at the grapes. There was plenty of space for them to be kids and enjoy themselves.
When the tour was done, hubs and I ordered glasses of wine and a delicious charcuterie board. Our boys devoured it and felt like big boys. We allowed them to drink their water from wine glasses while we overlooked the hills of the vineyard lined with almost-ready-to-harvest grapes.
BSR Cable Park
What screams 4th of July, more than a party? After all, we are on a family trip to Waco. We arrived at BSR Cable Park with expectations to have a great day and we were not disappointed. As we were getting our tickets for the beach, we could see people skiing (wake boarding), socializing, and just enjoying the Texas Sun.
The cost of the tickets for the day was $39 for adults and $15 for kids ages 6 – 12. The tickets included the slide, the lazy river, the beach, and the adult-only swim-up bar. Not included was the wakeboard which was $30 for 2 hours. It looks like it's for the super adventurous and a huge adrenaline rush, maybe me before my twins.
The slide was not your normal slide either. It was also for the adventurous as it propels you in the air before dumping you in the water. The lazy river was perfect for someone wanting to lounge, it was a party on the water. They even had tubes for your cooler, say whaaaat?!?! Sadly, we couldn't go with the boys because they only had single tubes.
There were private and public surf lessons available for all levels. Unfortunately, I booked it too late to reserve a lesson. So we had fun at the beach. The boys had a great time playing in the water as it was shallow. The only downside was we weren't allowed to bring outside drinks on this side of the park because of the adult swim-up bar.
If you wanted to extend the experience, they had cute cabins and accommodations for overnighters.
Waco Tours
When I heard that Waco Tours was recently named one of the top tours in the country by TripAdvisor, I knew I had to experience it for myself.
Waco Tours offers city tuors by vans, taking you by the houses renovated by Chip and Joana Gaines and it also offers a river cruise.
As I wasn't sure how the boys would handle a city tour, we opted for the river cruise. It was the 4th of July, so there would be a firework show and my family loves the water. Sign us up! The river cruise was $99 per person for the special occasion. The regular price is $79 for adults and $65 for children.
Included in the cruise was a well-maintained platoon with a captain and tour guide, city history and legends, the fireworks, water, and a special sweet treat, the Waco Float. The Waco Float is ice cream with Dr Pepper, created right in Waco. It was so good.
Dr Pepper Museum
I didn't know what to expect at the Dr Pepper Museum, but I was so happy that it exceeded my expectations. We spent over 2 hours there and I had to almost drag my boys to leave. It was the perfect addition to our Waco family trip.
In case you don't know, Dr Pepper is the oldest soda in the US and it was created, manufactured, and sold in Waco in 1855.
Dr. Pepper actually originated at a corner store, called Morrison's Old Corner Drug Store. Charles Alderton a young pharmacist, is believed to be the inventor. Alderton spent most of his time mixing medicine for the people of Waco. When he wasn't doing that he was serving carbonated drinks at the soda fountain. He really liked how the drug store smelled with all the fruit syrups in the air, so he created a drink that resembled the smell. After many experiments, he finally found a mixture of fruit syrups he liked, and voila, Waco (the name at the time was born).
The museum is filled with information about the soda industry, the history of soda and the manufacturing plant. The entry price is $10 for adults, $6 for students and children, and kids 4 and younger were free. Paid admission includes a free soda.
My favorite part was the ice cream shop across the street where you had the option to create your own soda and do a soda tasting. To create your own soda, you must reserve in advance and there are limited time slots, so we didn't do it. But there were slots available for soda tasting, so we did that. The cost was $24 for 12 samples of various sodas. The boys absolutely loved it as they don't drink soda often. My husband and I enjoyed it as well because some of the flavors were quite unique and tasty.
Next to this experience was an amazing interactive train, which was an exhibit of how the "soda man" would deliver soda to the community back in the day. One press of the button and the delivery train would scurry around the community. My boys were addicted and we had to bribe them to leave.
We had planned to visit Cameron Zoo and Park, but we ran out of time. I was looking forward to it because I heard kids really enjoy it with the water splash boards and all.
Food in Waco
Tru Jamaica
Jamaica me crazy! When I found out there was Jamaican food in Waco, I was so excited to try Tru Jamaica. We ordered oxtails and curry goat and the food was really tasty and the boys devoured it.
Oh, and the restaurant was cute too with beautiful murals, especially the mural outside on the sidewall.
Union Hall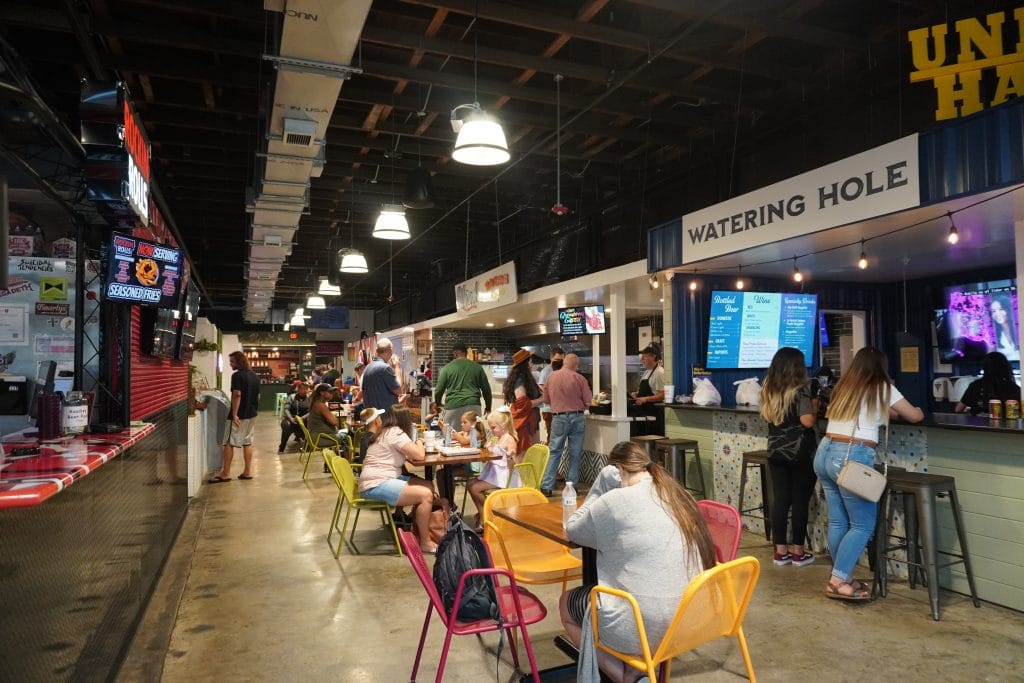 Union Hall is a food hall that has every type of food you are craving. From pizza and pasta to Asian, Latin, NOLA style, and plenty of desserts. It even has a bar! We stopped here to get the boys ice cream, which they were so excited about. They got superman flavor and we also grabbed some pizza.
Cafe Cappuccino (breakfast)
I love a good breakfast spot. Cafe Cappuccino had a large menu with a good variety of food. There was something for everyone, even the picky eaters.
We ordered pancakes, french toast, and omelets. The breakfast was good, but it didn't stand out to me. However, on the coffee side, they lived up to their name, offering a plethora of syrups for your latte or cappuccino. I was feeling a little Christmas-y so I ordered eggnog. Yes, in July and it was tasty.
Another breakfast recommendation we received was for Our Breakfast Place but it was closed while we were for a holiday break. Next time.
In and Out
Okay, so some of y'all may be like, really In and Out burger? Don't judge me. I live in New Orleans and we don't have one. The day we went to the vineyard, all we had was breakfast at Cafe Cappucino and the charcuterie board at the vineyard. By the time we got off the boat at 10 p.m. we were starving and options were limited. In and Out did what it needed to do and hit the spot.
Other dinner recommendations are Poppa Rollo's for pizza, Jakes Texas Tea House for family-style meals and La Fiesta for Mexican food, and George's Buzzard Billy's for Cajun and Creole food.
Guess Family BBQ
There's no way you can take a family trip to Waco, Texas, especially during the 4th of July weekend, and not partake in BBQ. It should be illegal.
Our last stop of the trip was Guess Family BBQ, and we had big expectations and it did not disappoint. We ordered the family meal, which comprised of all the meats and every side they had. The Wright family does not play about our food.
If you're thinking we ate it all, we came close. Two adults and two three-year-olds ate almost 2 pounds of meat with samples of six sides. It was the perfect ending to our Waco family trip.
If you enjoy family posts like this, check out Things to do in Sarasota.