It's the winter of 2018, and Zika has wreaked havoc on most of the Caribbean countries. You're a travelista, and seven months pregnant with twins, so your options for a babymoon are limited. Europe is out because I mean, it's freaking cold in January. Anything in South America or Asia is not an option because my OBGYN doesn't recommend long flights at my stage of my twin pregnancy. So the best option we could find for our babymoon was Bermuda. Luckily, my good friend had recently gone and gave good reviews. Plus, who am I kidding, at this stage of my twin pregnancy, all I really needed was R&R with a beautiful view.
Bermuda Babymoon Lodging
My husband is the absolute best in finding beautiful hotels. His go-to reference for "special occasion" hotels is Unforgettable Honeymoons. We found a beautiful family-owned boutique resort nestled on a private pink sand beach. In fact, The Reefs was named #1 in the region by Conde Nast readers. It's located on the south shore of the island, about a twenty minute drive to downtown.
It was such a treat to wake up to the sound of crashing waves and the view of the beautiful beach from our hotel room. The club house offered extraordinary views of the ocean where you could sit and relax at the beautiful pool or enjoy a delicious meal or beverage. The staff was extremely helpful in giving recommendations on restaurants, things to do, or how to get around the island.
Getting to and around Bermuda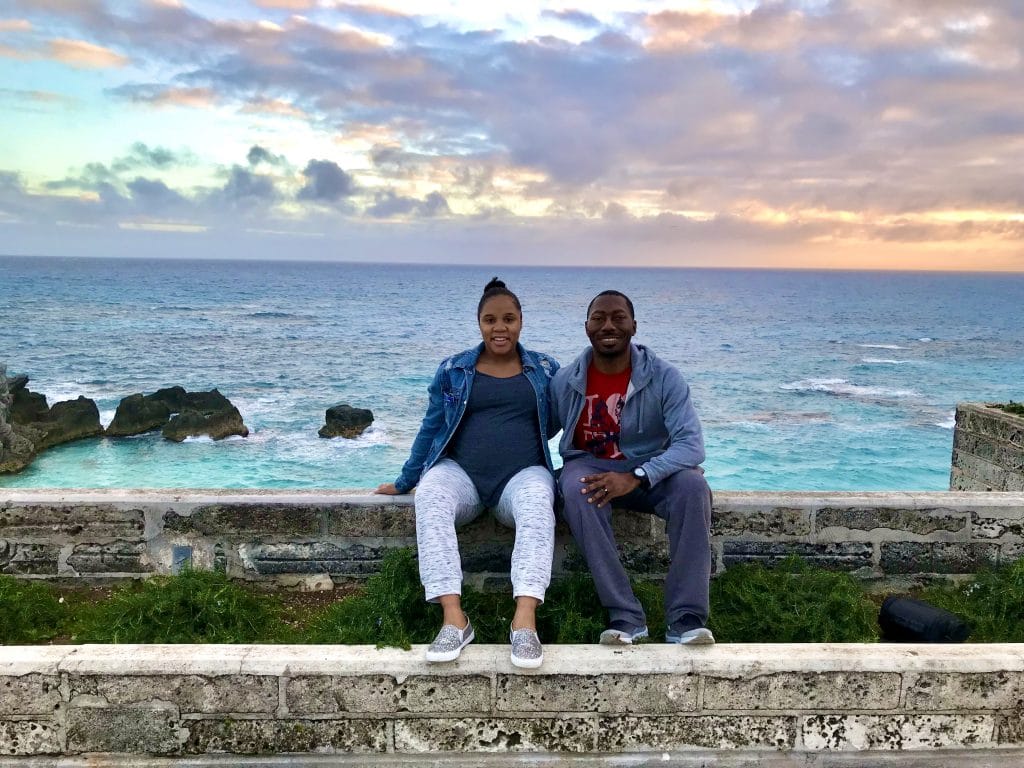 Flying to Bermuda
Bermuda is less than 900 miles from the coast of South Carolina. Therefore, it was only a ninety minute flight from NYC, which was perfect for a pregnant woman. Direct flights to Bermuda are readily available from most major airports along the East Coast of the United States.
Pregnancy Flying Tips
I flew until I was 32 weeks pregnant with my twins. Let's just say compression socks and a pillow wedge were my best friends. In fact, if it was a longer flight I would bring a heating pad and plug it up in the outlet at my seat on the airplane. For me flying wasn't challenging while pregnant. The hardest things were having to go to the bathroom and not crossing my legs. Of course every woman and pregnancy is different, so make sure to talk to your doctor before flying while pregnant.
Getting Around the Island
There are very few, if any, beachfront hotels located near Front Street, which is the waterfront promenade lined with boutiques, restaurants, and bars in downtown Hamiliton, Bermuda. Therefore, you will have to decide if you want to be close to downtown Hamilton or the beachfront. For this pregnant woman, the goal of this babymoon was to relax and soak up the beauty of Bermuda.
Taxis are relatively pricey in Bermuda, costing about $20-$25 each way from our hotel to downtown, about a 20 minute drive. Luckily, they had a pretty convenient bus system that would take us directly from our hotel to downtown. Conveniently, the bus stop was located across the street from our hotel. The buses were clean and the drivers and locals were friendly. This was our main mode of transportation while celebrating our babymoon in Bermuda.
When traveling, I love being independent from transportation- having the freedom to get up and walk around my surroundings and find a bite to eat or something to do. There were a couple of restaurants and shops within walking distance of our hotel, including a larger, public beach, Horseshoe Bay Beach.
If you're looking for a hotel that offers a bit of both- walking distance to Front Street and a beach club, consider staying at Hamilton Princess. It's a beautiful hotel within a ten minute walk to Front Street and has a beach club. The only down side is that you have to take a twenty minute shuttle to the beach club from the hotel.
Things to do in Bermuda
Downtown Hamilton, Bermuda
If you're looking for nightlife in Bermuda, downtown is the area to be. Many of the restaurants convert into nightclubs- playing music, turning their dining room into a dance floor, and offering hookah on their patios.
We were lucky enough to catch the traditional Bermuda Gombay dancers- a dancing troupe dressed in beautiful, colorful costumes- including headdresses, capes and masks. These dance groups perform as they walk Front Street and the adjacent streets. They normally perform during Boxing Day and New Years Eve. However, we caught them mid- January. We think it was because it happened to be Bermuda Marathon Weekend. Therefore, the island was filled with folks from all over the world participating in the marathon. Whatever the reason may be, we're glad that we were able to experience their performance.
The Beaches
We visited Bermuda in mid-January. Despite beautiful weather, it's not necessarily considered beach season. Therefore, the private pink sand beach at our hotel did not have any beach chairs out. That didn't mean you couldn't use the beach, but you would have to sit on a towel or enjoy the chairs that were poolside- a level above, overlooking the beach.
We also ventured to Horseshoe Bay Beach, a public beach near our hotel. The water was so clear, filled with blue and turquoise hues. Similar to the hotel beach, they did not have any chairs available to sit. As a woman who was seven months pregnant with twins, the thought of laying on my back on just a towel did not necessarily tickle my fancy. Thus, we didn't stay too long. We played in the sand and water a bit, took some pics of the beautiful scenery, and headed back to the hotel.
Crystal Caves
This was the highlight of our trip. To be able to experience the beauty of the white limestone stalagmites and icicles emerging from the ceiling and the clear lake water giving an unobstructed view to the formations that have made their home underwater, was an experience of a lifetime. The tour at the Crystal Caves of Bermuda costs $22 per adult and is worth every penny. They take you through the history of the caves and give a science lesson on how they were formed. Oh, sidenote…I really wanted to do my maternity photoshoot here. Unfortunately, they no longer allow this. You wanna know why? Beyonce. I guess they had a bad experience with her crew and have prohibited photoshoots since then. Beyhive, don't come for me. I'm just the messenger.
We loved the cave experience so much that we booked a massage at Natura Spa: Prospero's Cave at the Grotto Bay Beach Resort. The natural sounds of the free-flowing water and the beauty of the caves makes for a wonderful backdrop to a relaxing massage. If you're a lover of spa treatments like myself, this is one experience that you don't want to pass up.
Bermuda's Vibe
Overall, Bermuda is a pretty chill island (and relatively on the expensive side). It's the perfect location to sit back, relax, and enjoy nature's beauty. I would recommend visiting here for a quick getaway to get some rest and relaxation. It wouldn't necessarily be the place I would go to if I was looking to do a lot of activity. But for a babymoon, Bermuda was the perfect place.