Lisbon And Sintra Portugal Overview
Ranking
Details/Comments
Things to do
Lisbon has several cute neighborhoods with shops, restaurants, and/or bars. The Sao Miguel neighborhood offers beautiful views of the marina and the city. Personally, I believe the true attraction of Portugal is outside of Lisbon. To start, Sintra is a must! Such a quaint place filled with beautiful architecture and history. While in Portugal, several locals mentioned Porto (wine) and Albufeira (beach) are a MUST! There was also mention of Cascsis as well.
Lodging
I stayed at the Sheraton Lisboa, which was nice. The customer service was top notch. It wasn't necessarily located in the 'happening' areas of town, but it was quick and inexpensive to get to those locations.
Getting Around
Getting around was super easy and the ubers were super reasonable, an average of $5 per trip. In fact, I learned that Uber was significantly less expensive than taxis. There is also the Metro which appears pretty easy to use. With it being a solo trip to Lisbon and the reasonable Uber prices, I didn't use the metro.
Getting There
It really depends on where you're flying from. I was actually in Europe for work, so I took a direct flight from Amsterdam. From most major European cities, it will be a direct flight.
There does not appear to be direct flights from the US. You will have one or two stops, depending on your departure city.
Afford-ability
Most things in Lisbon cost relatively the same as any other major European country. The main thing that stood out was the reasonable pricing of Uber, about $5 per trip. Like most European countries, the wine was super cheap. You can get a $5 bottle that tastes delicious.
Mama's First Solo Trip
Man, was I excited to have the opportunity to have a solo trip to Lisbon and Sintra, Portugal. Although it was just for a couple of nights and connected to an European work trip, it was well needed. At this time of my life, my boys were about 18 months and one of my twins was having night terrors. Also, it was November and work was BUSY- end of year meetings, planning, and trade shows. Needless to say, your girl was TIIIIERD! The timing of this European work trip had me concerned that jet lag would hit me like a ton of bricks. So, what did I do? I went to Europe a few days early, to a country I've never been to- giving myself the opportunity to explore my wanderlust and prepare my body for a week's worth of non-stop travel and work in a different timezone.
Getting To Lisbon
For an easier and cheaper work travel itinerary, I used Amsterdam as my gateway in and out of Europe. Once I landed in Amsterdam, I hung out in the KLM lounge for a few hours until my direct flight to commence my Lisbon and Sintra solo trip!
I took a quick look at flight options and it appears that there are several direct flights in and out of Lisbon to major European countries.
Flights from the United States is a different story. There is at least one stop, normally two, depending on your departure city.
Lisbon Hotel
I stayed at the Sheraton Lisboa, a Marriott property, so that I could use my Bonvoy points to pay for the room. This was a nice hotel with excellent customer service. The neighborhood was just okay. However, it was a quick and inexpensive Uber or Metro ride to the top attractions. However, if I was going to go back, I probably would've chosen a place within walking distance to at least one of the top attractions.
Lisbon And Sintra Solo Trip Itinerary
Day 1
Direct flight from Amsterdam to Lisbon
Arrive in Lisbon early afternoon
Airbnb Experience: Dinner and Portugese wines with a sommelier
Day 2
Airbnb Experience: Sintra Day Trip
Day 3
Airbnb Experience: Tour and Photography Lesson
Fado & Dinner at Cafe Luso
Bar hopped in Barrio Alto Neighborhood
Day 4
Early AM flight to Italy to start work
Dinner And Portuguese Wine With A Sommelier
The Portuguese are known for their wine with so many regions and grape varieties. So I was beyond excited for this Airbnb Experience which took place in a small and quaint restaurant operated by the sommelier himself. The experience, which you can find here, was a bit on the pricey side, about $100/person, but it was worth every cent.
The Food And Wine
The evening started with a beautiful sparkling wine along with foie gras and bread. We continued with three samples of various white wines along with a deliciously prepared smoked salmon. The third course was one for the books as it consisted of three incredible red wine samples and a perfectly cooked lasagna (the sommelier was born and raised in Italy.) We finished the evening with three samples of sweet wines, including the well known porto variety. Did you do the math? That was 10 samples of wine. Let's just say he was not stingy with the sample portions.
The Experience
When the evening first started it was just another women participating in the experience and myself. The sommelier was very attentive, giving very detailed explanations. What we didn't realize was his restaurant was still open to the general public. After our 1st course, a couple arrived for dinner. This wouldn't have been a big deal, and may not be for some, but he was the only person working at the restaurant. Therefore he was the waiter, the cook, and the sommelier. Consequently, his attentiveness and responses became shorter as the evening progressed. If your goal of the evening was to learn a lot about Portugese wine, you might have been a bit disappointed. Now, if your goal was to eat and drink delicious food and wine, you would have been more than happy. Let's just say I left more than happy.
Sintra Day Trip From Lisbon
Why This Airbnb Experience
This Airbnb Experience, which you can find here, was the highlight of my time in Portugal. I had seen all the beautiful pictures and just had to go. Since this was a solo trip to Sintra and I had a limited amount of time, I wanted an experience that didn't go inside the Pena Palace (due to the limited time) and had great reviews.
Pena Palace
After meeting our host, about 10 of us climbed into a van to drive about 45 minutes to the Pena Palace Park. We actually arrived a bit before it opened, giving us the opportunity to be one of the first people in line. Man, was the park amazing, full of so much history. We learned about the Moorish and their history in Portugal; in addition to, seeing some of the most beautiful trees and flowers.
The park led up to the Pena Palace, which is beyond beautiful! The vibrant colors and architecture was like no other. Plus, it's set on top of a mountain offering an amazing view of the surrounding villages and the sea. Unfortunately it started raining, limiting its beauty that I could capture via photo.
After Pena Palace, we drove to the center of Sintra, a cute and quaint town, where we had lunch. Soon after, we took a short but rain filled walk to the Quinta de Regaleria, a 19th century beautiful gothic palace. It uniquely brings Gothic, Egyptian, Moorish and Renaissance architecture and features in one place. This place is filled with beautiful fountains, underground tunnels, and hidden passages and caves. The highlight for me was the Initiation Well, a pair of underground winding stairs. Beautiful tunnels are connected to each of the wells. You literally could spend hours here discovering unique and different features.
Lisbon Tour And Photography Workshop
This Airbnb Experience, which you can find here, was the perfect combination of tour and photography. I walked through some of the most unique neighborhoods in Lisbon with a local photographer. We started in Mouraria (historical Moorish neighborhood) and walked our way through Alfama and Graca. It was so interesting learning the history of the neighborhoods and experiencing how the architecture and culture changed as we exited one neighborhood and entered the next.
While walking the neighborhoods and learning the history, Miguel gave me tips on how to capture beautiful photos using my cell phone. We discussed themes like apps to use, composition, and editing tips and tools.
In the experience description, he mentions there is a max of six guests. Fortunately for me, I was the only person at my experience so I was able to ask as many questions as my heart desired- not only on photography tips but also the history and culture of Lisbon and it's neighborhoods.
Airbnb Experiences
As you may have noticed, all of the above activities were booked using Airbnb Experiences. It's a great opportunity to learn from a local about their country and culture.
FREE Tips and Tutorials On Catching Flight Deals
included in your FREE travel planning toolkit when subscribing
Processing…
Success! You're on the list.
Whoops! There was an error and we couldn't process your subscription. Please reload the page and try again.
Fado And Dinner In Lisbon
After my photography tour and learning about Lisbon's history, I knew I had to catch a Fado performance during my last night in Portugal.
History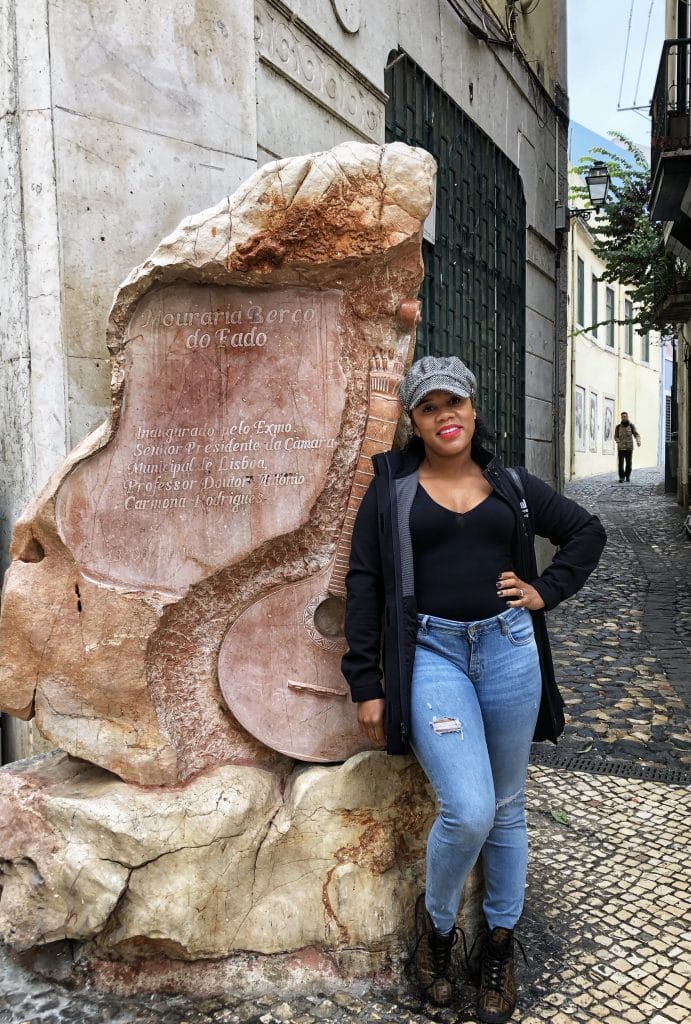 Fado is a music genre that originated in Lisbon during the 1820, or perhaps earlier. In fact, during my photography tour, Miguel told me about the folklore of the originator of Fado, Maria Severa Onofiana. She was known to be a prostitute and died at the age of 26 in Mouraria. She sang in bars and pubs for the sailors who would be passing through town. Fado can be characterized by mournful tunes and lyrics, infused with a sentiment of resignation, and melancholy.
Cafe Luso
During the dinner at Cafe Luso, the performances rotated between five amazing singers- both male and female- ranging in age. Although they were singing in Portuguese, I could feel the emotion of each word that proceeded from their mouths. I knew I was not the only one who could feel the emotion because after each song the crowd, mainly foreigners, erupted in applause.
I'm always a bit nervous about places like this, ones that offer a performance along with dinner, especially when the majority of the crowd are foreigners. But this place exceeded my expectation. Not only was the music outstanding but the food was delicious. The menu offered just enough options to satisfy most taste buds without offering everything under the kitchen sink, which is a sign of a tourist trap.
Barrio Alto
When in Lisbon, solo trip or not, I recommend you go to Cafe Luso for an evening performance. It's located in Barrio Alto, a neighborhood lined with restaurants and bars. After dinner, you can stroll the streets and find a bar or two that fit your fancy. That's exactly what I did. It made for a memorable and fun last night in Lisbon for my solo trip.
Is Lisbon A Good Place For Kiddos?
Indeed! I would bring the boys without thinking twice. I would have to tweak my itinerary a bit to find a way to learn about and enjoy Portuguese wine with the kiddos in tow. But I'm sure, with a bit of research I could find a place. Similarly, I would not have done the photography tour as there was a lot of walking. I probably would have selected a hop on hop off tour, or something similar. Thus, the vehicle takes us from neighborhood to neighborhood but still gives us the opportunity to get out and explore the neighborhoods. Since Lisbon is a bit hilly, I'd recommend a baby carrier or something to bribe the kiddos to walk 😁. You can check out my kiddo travel must haves on my homepage.