Marquita's Travels contains affiliate links and is a member of Amazon Services LLC Associates Program. If you make a purchase using one of these Amazon links, I may receive compensation at no extra cost to you. Read my disclaimer for more information.
Very few things are more relaxing than enjoying the beauty of mountains and nature. Consequently, we decided to embark on a Blue Ridge, GA mountain family vacation for my husband's birthday. Since this was a last-minute trip and we were just "going with the flow", we really didn't know what to expect.
Man, were we pleasantly surprised!
There are so many family-friendly things to do in Blue Ridge, even with our twin two-year-old boys in tow! I now see why it was ranked by Southern Living Magazine as one of the 2020 South's Best Mountain Towns.
Where is Blue Ridge, GA?
The Blue Ridge Mountains area is such a gem! It's perfectly nestled on the Georgia, North Carolina, and Tennessee border.
Being located amongst the borders of multiple states makes it rather easy to get to. Blue Ridge is a short drive from Atlanta (90 minutes), Charlotte (2.5 hours), and Knoxville (3 hours).
Its destination alone makes a home to some of nature's most beautiful features in the Southern United States, creating an endless list of things to do in Blue Ridge. This includes the Chattahoochee National Forest, hiking trails, water activities, vineyards, orchards, and more. Blue Ridge is the perfect location for a family mountain vacation with kids.
Where to Stay in the Blue Ridge Mountains for a Family Vacation?
Our Family-Friendly Blue Ridge Mountain Cabin
There are SO MANY lodging options near and in the Blue Ridge area- from cabins to tiny homes, to RV rentals and more. Unfortunately, I waited until the week before our trip to book our Blue Ridge cabin, so our options were scarce- especially since this mountain vacation rental will house our young and active kids. We landed at a house in Elijah, GA, less than 20 minutes from Blue Ridge, GA, via Airbnb.
This home had an amazing view of the mountains, which created beautiful family memories of our time in Blue Ridge.
The home itself was just okay.
I say this because when I think about staying in the mountains, I think of welcoming furniture that invites you to cuddle and nestle in the living room. That was not the case with this home. The living room furniture was a wicker love seat along with three individual chairs.
On the contrary, one cool feature that helped keep the kid's entertained during a rainy patch was the game room. They had table tennis and foosball. The hubs and I would play while the boys fetched our balls. Fun was had by all!
KIDDO PRO TIP:
Many of the kid-friendly activities in the Blue Ridge are outdoors; thus, subject to good weather and/or closing early in the evening. Therefore, make sure you bring activities for the kiddos to do inside or stay at a Blue Ridge family-friendly rental like ours.
Bear Encounter
I'd be remiss if I didn't mention that we saw a bear- a real-life, breathing, moving cub! He was on top of the subdivision's trash dumpsters searching for his next meal. When I first saw him I was amused; that is until he noticed us noticing him.
My husband quickly shifted car gears and we made our way up the mountain. I was not ready for an entanglement with a bear.
Things To Do in Blue Ridge
I'm not exactly sure why I didn't have the highest expectations for our Blue Ridge family mountain vacation with our kids. Maybe it is because I thought that the only thing we could do was hike. Or that most of the things to do in Blue Ridge wouldn't be kid-friendly for two-year-olds?
Either way, I was wrong.
Whitewater Rafting
Now of course, if it's an adults-only trip or your kiddos are older, there are endless options. In fact, my husband and I visited this area while we were dating. We went whitewater rafting on the Ocoee River which runs throughout this area.
It was amazing! Unfortunately, my boys are too young for this adventure.
✔️ Learn more about Whitewater Rafting on the Ocoee River ✔️
Kid-Friendly Things to Do in Blue Ridge
When researching our kid-friendly activities list, we specifically had to keep in mind toddler-friendly activities close to Blue Ridge for our family mountain vacation.
Brasstown Bald- The Highest Point In Georgia
The highest point in Georgia?
I know what you're thinking. How in the world is this a kid-friendly activity in Blue Ridge?
Brasstown Bald, a one-hour drive from Blue Ridge, is nestled within the Chattahoochee-Oconee National Forest. Its paved trail makes it accessible for those who are in strollers and wheelchairs to enjoy the beauty of the forest as well.
Upon arriving, you have to pay a $5 entry fee per car. Parking was readily available right in front of the entrance of the trail. The website does mention that they only allow sixty cars at a time but there were probably only twenty cars or so when we were there on a Sunday afternoon.
The Hike
Yes, the trail is paved. But be aware of the trail's incline as it's not for the faint of heart, especially if you're pushing an almost 40lb toddler in a stroller.
We naively only took the short distance of half a mile into consideration when mentally preparing for this hike. Our thought was "It's a short trail and it's paved, easy peasy." Welp, we were wrong.
I was literally sweating bullets within the first minutes of hiking with the stroller. Luckily, we were not the only ones with strollers on the trails. It gave us comfort that other parents are just as crazy as we are.
Before you pass over Brasstown Bald because it's not the easiest hike and/or you have kids in tow, let me just say IT IS WORTH IT.
KIDDO PRO TIP:
If your kids are decent walkers, let them try to walk the trail on their own, at least on the way up. We did it for the last half of the hike up, and it was so much easier. For the hike down, we pushed them in the stroller as there is no guarding (and it's way easier to push down than up.)
On the same note, going down wasn't necessarily difficult in the sense of strenuous but using a stroller going down a steep decline equals fast-moving wheels. Therefore, both my husband and I were hanging on to our respective strollers with our dear lives. Phew. It made for a good workout though.
The View
When we finally arrived at the top of the observation deck, I could not believe that I was in Georgia. It was absolutely beautiful! The 360° view of the lush greenery that expands throughout four states- Georgia, Tennessee, North Carolina, and South Carolina- was beyond my expectations. It was absolutely perfect!
Morganton Point Beach- A Family-Friendly Blue Ridge Area Beach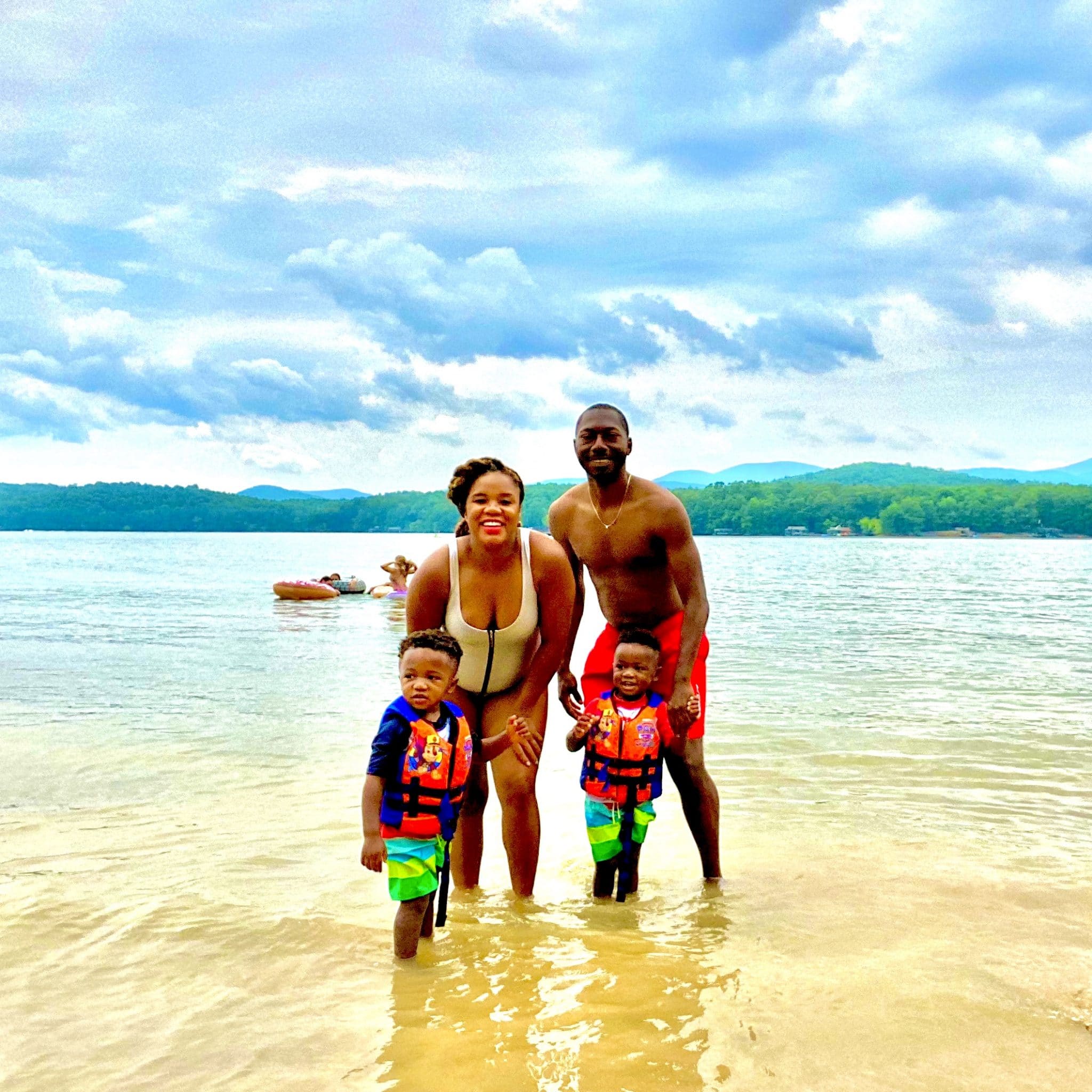 Who would have thought- a beachfront on Lake Blue Ridge accompanied by a mountainous silhouette? It made the perfect backdrop to our Blue Ridge mountain family vacation with our kids.
When arriving at the beach, you have to pay a $5 fee to park in the parking lot. Make sure to bring the $5 in cash as payment is by the honor system- putting the cash into an envelope and dropping the envelope in a secured box.
You will quickly learn that both the sand and water are pretty rocky, so be sure to bring your water shoes to protect your feet.
The rockiness did not stop our boys. In fact, the rocks were a highlight. We spent at least half of our time throwing rocks into the water- seeing who can find the biggest rock, throw the farthest, and make the biggest splash.
Similarly, the water is rather shallow, allowing the boys to go further in the water than usual. They thought this was pretty cool.
In fact, they played "hide and seek" with their monster truck in the water. One boy would throw the monster truck in the water and the other had to find and recover it. This kept them entertained for almost an hour. SCORE!
There is a shop at the beach where you can rent beach chairs, kayaks, and large inflatables to bring some additional fun to the water. Similarly, they sell swim shoes and snacks in case you forgot to bring your own. The ladies working the shop were extremely friendly and welcoming.
While there, I noticed families boating, having picnics, and also taking advantage of the hiking trails. All of these things to do in the Blue Ridge area in a single location were pretty impressive. If you're in the area, make sure you spend some time here.
Mercier Orchard
My husband was dead set on going to an orchard to get some Georgia peaches. Therefore, before we could leave the area, we had to stop at Mercier Orchard. I was pleasantly surprised by how awesome of a Blue Ridge toddler-friendly activity it was.
The Bakery
Not only did they sell freshly picked peaches and apples, along with other fruits and vegetables, but they had a bakery that made fresh deliciousness daily.
Upon opening the door to the orchard, the smell of freshly baked goodies fills your body with comfort. I was immediately sold, rushing directly to the bakery to uncover what goodies I could find.
And oh boy, they did not disappoint.
They had fried pies filled with apples and other fruit, caramel apples, and the most amazing apple cinnamon donuts. When I tell you these donuts were perfect, oh my! They were soft, full of flavor, and not overly sweet.
The donuts alone were worth the visit.
The Tasting Room
How cool is it that an orchard has a tasting room?!?!
They have so many varieties of hard cider and wines. Not only can you buy bottles to take home, but they let you sample the options so you're confident in your selection (insert dancing emoji!) For those who prefer non-alcoholic options, they have regular apple cider, muscadine cider, and sparkling cider.
So many options!!
The Market
Mercier Orchards is the perfect Blue Ridge family vacation thing to do because it's home to fresh fruits and vegetables, a bakery, a tasting room, and a full shopping experience. There was a home section, an entire room with great finds for the kiddos- like books, stuffed animals, and cars- along with several pantry and kitchen options.
I found so many goodies!
U Pick and Picnics
We were so bummed that they were not offering U Pick while we were there. This is the opportunity to pick a variety of fruit, including apples, strawberries, peaches, blueberries, and blackberries.
Check their schedule for when it's available. It will make the perfect kid-friendly Blue Ridge area activity.

This orchard has over 300+ acres of beautifully manicured land. There were families enjoying the beauty while having picnics. I only wished that I would've known this was an option in advance because I most definitely would've planned to picnic there.
Such beautiful and peaceful scenery.
Family-Friendly Blue Ridge Activities We Wished We Had Time To Do:
To my pleasant surprise, there are so many kid-friendly activities to do near Blue Ridge. Below are a few of the activities that piqued our interest but we did not have the opportunity to experience:
Kid-Friendly Blue Ridge Hiking Trails
Firstly, can you believe that we ran out of time to do any hiking trails in Blue Ridge? I mean, how is that possible? This is the first activity we will do on our next visit.
Below are kid-friendly hiking trails in Blue Ridge:
Lake Blue Ridge Loop– Less than a 1-mile paved loop with beautiful lake views. The path is not well marked so look for the paved parking lot and go to the sign that says "day use only" to find this path. There are additional paths in the area.
Mineral Springs Walking Trial– this is a perfect short walk (less than 20 minutes) with signs that identify the various plant life. Perfect for the kiddos who love nature!
Long Branch Loop Trail– An easy ~2-mile loop trail with a few creek crossings. Be aware that the parking lot is badly rotted. So drive with caution.
Chase Waterfalls
The Blue Ridge area is known for its beautiful waterfalls. Long Creek Falls is a family-friendly waterfall with a mile hike to get to the gorgeous, rather wide waterfall. Note that the hike is steep in some areas and the drive-in is rather bumpy.
Kid-Friendly Blue Ridge Water Activities
There are numerous kid-friendly water activities in the Blue Ridge area including tubing, kayaking, and canoeing. Many of these activities take place on the Toccoa River or Lake Blue Ridge. You can find a list of companies who offer these adventures, here.
Rent a Pontoon
Relaxing on a pontoon while exploring the water is one of the most relaxing family-friendly activities. Lake Blue Ridge offers the incredible opportunity to do just this by renting a pontoon. We most definitely would've done it as a family-friendly activity in the Blue Ridge area but we literally did this on Lake Lanier in Atlanta the weekend before.
Check out this post to learn more about renting a pontoon.
Lilly Pad Village
Lilly Pad Village is the perfect kid-friendly activity in the Blue Ridge area. Not only can your little one go gem mining, fishing, and miniature golfing in one location, the entire family can take in the beauty of the mountainous setting.
Enjoy Nature on Horseback
What's a family mountain vacation without a horseback ride? There are multiple companies in the Blue Ridge area that offer family-friendly horseback riding with the beauty of nature as the backdrop. Check out this list as there are a variety of options- even for the inexperienced.
Blue Ridge Scenic Railway
How cool would it be to take a train ride through the Appalachian Foothills? Unfortunately, we were not able to try it out as it only runs Thursday through Saturday- days we were not there.
The main tour that they offer is a four-hour, twenty-six-mile adventure through small towns settled in the mountains along the Toccoa River. The actual train ride is an hour each way. Included in the four hours is a two-hour stop at two sister towns located on the borders of Georgia and Tennessee.
This layover gives you the time to explore each town and uncover some treasures- including restaurants and boutiques.
There are also shorter trip options, but they are only available around the holidays, like Thanksgiving and Christmas.
When we return, this will be one of the first family-friendly Blue Ridge activities that we do. My boys absolutely love trains!
Vineyards
Throughout our travels in and around Blue Ridge, we passed so many vineyards! Unfortunately, we didn't have the opportunity to really enjoy a tasting.
I did however stop inside of one (and happen to buy a bottle) on our search for muscadine grapes- don't ask- another one of my husband's quests.

Most vineyards had seating both inside and out. I'm pretty sure we could've enjoyed a wine tasting outside while the boys ran around- making it a win/win family-friendly Blue Ridge activity. This is most definitely on the Blue Ridge things-to-do list for when we return.
Get a Bird's Eye View of Blue Ridge
Take in the beauty of Blue Ridge on a helicopter, offering you a once-in-a-lifetime experience to enjoy this picturesque landscape from a bird's eye view. We did a helicopter ride with our twin toddlers in Kauai, Hawaii and they were so comfortable, that they fell asleep.
Test your Adventurous Side
Traveling to Blue Ridge with kids 10 years and older, then test your adventurous side at Adventure Park. This aerial adventure park offers obstacle challenges that range from 10 to 50 feet suspended in the air. They also offer rafting and ziplining adventures.
We Cannot Wait To Return To Blue Ridge
I hear that fall is the best time to go to Blue Ridge for a family mountain vacation. The leaves start to change colors and the weather is not as hot.
Consequently, returning to Blue Ridge for another mountain vacation with kids is a must. Upon our return, I'll be sure to do the things mentioned above- especially hiking the trails in Blue Ridge, doing a U-Pick at Mercier Orchards, and going to a vineyard.
I will also book my Blue Ridge cabin in advance because they really nice ones book up quickly!
Either way, Blue Ridge, GA is most definitely on my "to return" list.