Marquita's Travels contains affiliate links and is a member of Amazon Services LLC Associates Program. If you make a purchase using one of these Amazon links, I may receive compensation at no extra cost to you. Read my disclaimer for more information.
When I ask people if Hawaii is on their travel bucket list, they unequivocally declare. Yes!
But then their follow-up question is which islands are the best to visit. And what are the must-do activities? This guide will take your stress away and plan your seven-day Hawaii itinerary across Honolulu and Kauai.
Where should I go to Hawaii for the first time?
You can't go wrong with any island in Hawaii. Each island is beautiful and has its own vibe. But a way to decide is by choosing which activities you'd like to do. Then go from there.
Hawaii's 6 Tourist Islands
There are six main islands to visit in Hawaii. They are Oahu, Kauai, Maui, Big Island, Lanai, and Molokai.
Here's a little about each.
Oahu: The most visited island in Hawaii. Especially Waikiki Beach in Honolulu.
If you're looking for the most lively and metropolitan island, Honolulu is a great idea. It has a strip of hotels, restaurants, and activities. Which makes it great for first-time visitors.
Kauai: Picture a tropical rainforest paradise and you'll come close to the beauty of Kauai. It's lush, full of greenery, and absolutely breathtaking.
It's the island where time slows down a little and you're on island time. When you're hiking and setting out on adventures, time just slows down a little. Kauai however, is not for travelers that want beachfront resorts.
Maui: This is a beach town vibe.
It's perfect for travelers that want to relax and enjoy the beach. It's also great for exploring waterfalls and beaches with different colors of sand. Think of a black sand beach.
Big Island: This island is great for people looking for water adventures. Especially along the lines of fishing and snorkeling. It is also home to volcanoes if climbing an active one is on your list.
Lanai: This tiny island is great for those that value seclusion and actively avoid crowds. Fun fact: this island was initially only used for pineapple farming by the Dole Company 🍍
Molokai: This island is similar to Lanai. It's very laid back with a local feel as there aren't any luxury hotels or resorts. Many tourists don't visit either.
If you're traveling with kids, it's recommended to visit Oahu, Kauai, Maui, or Big Island for families that prefer family-friendly accommodations.
Are 7 days enough for Hawaii?
Yes, one week in Hawaii is enough time to get to enjoy the beauty and culture. In fact, depending on which activities you're interested in, you may have enough time to explore two islands.
One of the biggest things you have to consider when planning your 7 days in Hawaii is the flight time, as it can be pretty significant when flying from the mainland United States. If the shortest flight time is necessary, the most direct flights from the mainland are to Honolulu and Maui. You may also be able to fly directly into Kauai and Big Island, especially if you're flying from a West Coast airport.
✔️ Check out these tips on mastering flying with kids and getting kids to sleep on the plane if your 7 days in Hawaii will include little ones ✔️
Is Honolulu, Oahu, or Kauai better?
Tough question! Both of them are wonderful. Your traveling style will decide which is better for you.
If you have seven days in Hawaii and you want to experience more than one island, choose islands with different vibes. For example, Honolulu and Kauai would be a great combination. Honolulu has beautiful beaches and great tourist attractions. While Kauai gives you lush, outdoor adventures.
You can experience the best of both worlds on one trip! Perfect.
Hawaii 7-Day Itinerary
Honolulu Itinerary Day 1
Explore Waikīkī Beach
Fun fact: Waikīkī was once a playground for Hawaiian royalty. Now it's a historic home to most of O'ahu's hotels and restaurants. It's famous for its beaches and it's said that every hotel room is just two blocks away from the beach.
And the beach is beautiful. If you're tired of the beach and it sounds impossible, there's a plethora of restaurants and shopping options. Think Las Vegas, the beach version, sans all of the casinos.
Honolulu Itinerary Day 2
Lanikai Pillbox Hike & Beach
Also known as the Kaiwa Ridge Trail is a great place to hike. It takes about 60 – 90 minutes to hike and your reward is a swim at a beautiful beach.
The hike itself really isn't that challenging, especially if you take a hiking stick. Plus the views from the top are picture worthy!
Dole Plantation
If you love pineapples and not the ones on the pizza, then you'll love this as you get to learn more about the pineapple growing process and of course taste some fresh pineapples yourself. I went with girlfriends, and we had a great time.
If you're traveling with kids, it's a great activity for the entire family. Includes a train ride through the plantation garden and a garden maze. This most definitely will be one of the highlights of any kid's Hawaii 7-day itinerary.
Honolulu Itinerary Day 3
Pearl Harbor National Memorial
Calling all history buffs!
Entrance to the grounds and museum is free. However, if you want to do the Battleship USS Arizona Memorial or the Ford Island Bus Tour, book your reservations in advance. Some of these tours can sell out a month in advance.
At this memorial, you can learn about the history of Pearl Harbor, the attack, and World War II. The memorial includes galleries, interactive exhibits, and a 23-minute documentary film at the theater, along with so much more. There is so much to do here that you can spend a few hours to all day depending on your love for history, the attractions you participate in, and if you reserved your boat tour tickets in advance.
Although the memorial could be a sobering experience, it's a kid-friendly experience to include on your 7-day Hawaii itinerary. Since it's operated by the National Park Service, it's a part of the Junior Ranger program for kids. Plus, the walkways and sidewalks are large and flat, which is great for strollers.
Please note that if you plan to do one of the boat tours, strollers are not allowed on the boats. Similarly, no bags are allowed in the museum, including diaper bags. It's recommended to put required items in a clear, zippable bag and store it in the under-stroller compartment. A bag check is available.
There is also very limited parking, so plan to arrive early. It's recommended to arrive one hour before the time of your reserved boat tour.
✔️ Learn more about the Pearl Harbor Tour from Waikiki.
Includes USS Missouri and USS Arizona Memorial ✔️
Luau at Polynesian Cultural Center
This is such a cool experience! Not only is the luau amazing, with delicious food and spectacular dancing, but the learning opportunity is endless.
The cultural center dedicates interactive exhibits, theater performances, and other learning experiences for each Polynesian island. You literally feel like you have been teleported to each island as the experiences feel very authentic. Be prepared to spend at least a few hours exploring the cultural center, so prepare your Hawaii 7-day itinerary accordingly.
Please note that the drive from Waikiki is one hour, but it's worth it! If time permits, check out the beach on the other side of the road from the Polynesian Cultural Center.
If your Hawaii 7-day itinerary doesn't permit the time needed to really enjoy the Polynesian Cultural Center, and a luau is your main priority, other great options are Germaine's Luau or Paradise Cove Luau. Paradise Cove Luau gives you a chance to see Ko'Olina which has lagoons with flat, more shallow water.
✔️ Learn more about Paradise Cove Luau ✔️
Honolulu Itinerary Day 4
Diamond Head
If you can squeeze in time for Diamond head, go!
Diamond Head is a volcanic cone on the Hawaiian island of Oahu. Despite the trail only being 1.6 miles, it takes about 2 hours to hike and has a moderate level of difficulty. Please note that some parts of the trail can be steep and there is a lighted tunnel you will have to pass through.
But the energy to hike the Diamond Head is worth it!
It has amazing 360-degree views of the Pacific Ocean and Honolulu.
If you can, do it. Reservations are required. Both for parking and the hike.
Additional Things to do in Honolulu
Po'kai Beach Park
It's not a replica of Waikīkī. As it's less crowded. But still, it's a beautiful drive to the west side of the island, Waianae. Which is very local and less touristy.
Lulumahu Waterfall Hike
Please note that this is one of the popular unsanctioned trails in Oahu. But it gets you where you need to be. And that's at the waterfalls.
The challenge is finding it, which you can do with the right amount of time. But when you do it is gorgeous. The 50-foot waterfall alone is breathtaking and worth the 2-hour, moderate (and potentially muddy) hike.
Please note that you do need a permit, which you can get here. Don't worry, the process is easy.
Koko Head
Great hike but it is not for beginners. The incline is steep and there is no shade. Be sure to pay attention to where you are walking, especially around the railroad tracks, as there is a potential that the ground could not be sturdy.
Go in the morning and pack plenty of water. If you like a challenge, this hike is for you.

If you're looking for souvenirs while on Oahu, be sure to stop at the Aloha Stadium flea market/swap meet. They literally have any and every souvenir that you can think of.
✔️ Have limited time in Oahu and want to see the top attractions in one day?
Check out this tour ✔️
Can I island hop in Hawaii?
Definitely! Hawaiian Airlines offers several inter-island flights on a daily basis. Ferry service is only available between the islands of Maui and Lanai.
For this Hawaii 7-day itinerary, plan to catch a flight from Honolulu to Kauai.
Kauai Island Itinerary
In Kauai, there's the South shore and the North Shore.
The South shore is home to the famous beach, Poipu. If you're in Hawaii for only seven days then you will only have time to fit in the South shore. As the North Shore is 45 minutes away.

Despite Kauai being small, there are so many things to do. We spent my twin's fourth birthday in Kauai. Learn more about our experience and 29 things to do in Kauai with kids.
Kauai Island Itinerary Day 5
Go to Poipu Beach
This beach was named America's best beach by Travel Channel. One visit and you'll see why!
Not only is the water beautiful, but it has a lifeguard, restrooms, and a playground for kids. Plus there's a delicious restaurant, Brennecke's Beach Broiler, across the street. Beware, the line can be fairly long.
Poipu Shopping Village
You'll most likely work up an appetite while at Poipu Beach. If you're looking for more variety than the restaurants across the street from the beach, nearby is the shopping village with the cutest setup. It's a garden setting with a variety of restaurants and shops.
Kauai Island Itinerary Day 6
Nā Pali Coast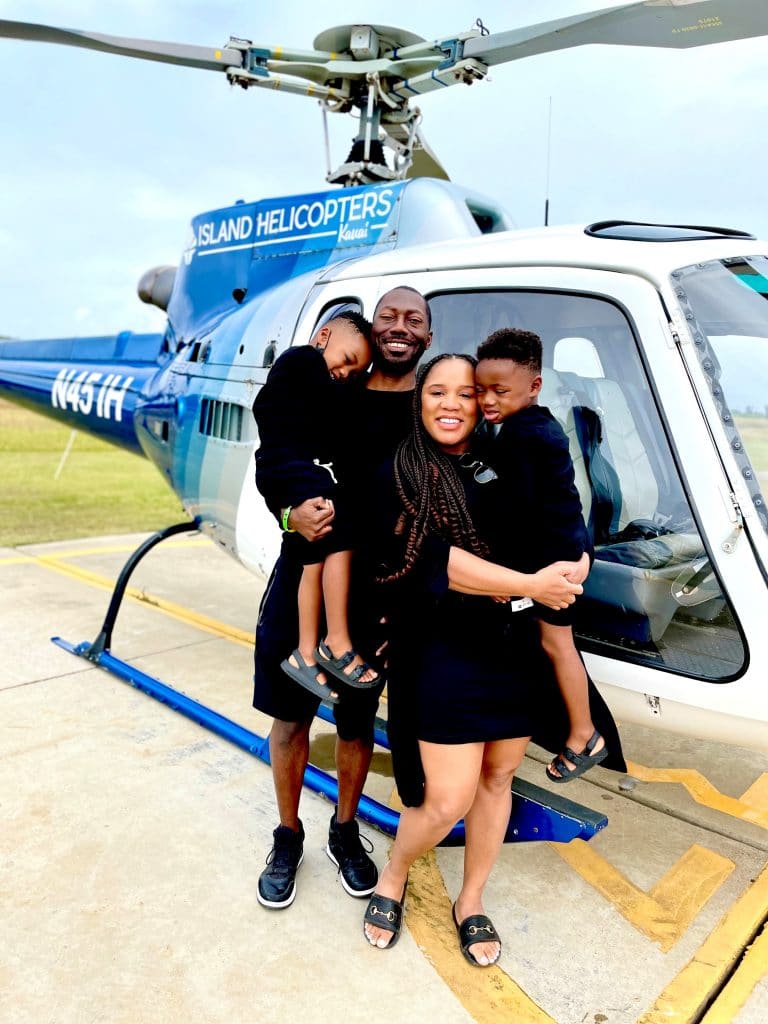 Did you really visit Kauai Island if you didn't hop on a helicopter or boat to take in the views?
This is a must-do activity for your Hawaii 7-day itinerary!
Since it's inhabited land, saying that it's absolutely breathtaking does not do it justice. When you visit, breathe in and take in all the natural beauty you're surrounded with. There's no better feeling.
The only way to see this is from a helicopter or a boat. When the weather is perfect, you can also take a raft tour which takes you to hidden caves and beaches.
If you're limited on time during your 7 days in Hawaii, opt for the helicopter ride in the morning. It only takes about an hour, so you will have time for additional attractions. May I recommend taking a hike at Shipwreck Beach Cliff and enjoying Shipwreck Beach?
✔️ Learn more about visiting the Na Pali Coast via Boat ✔️
Kauai Island Itinerary Day 7
Waimea Canyon Lookout
If you like hiking this is a great and easy hike. It's an all-day adventure from either the South shore or the North shore. But like every hiking trail, it is absolutely gorgeous.
If you don't wish to spend a whole day getting to and from Waimea Canyon Lookout, check out Princeville.
It's on the North shore and it has a great family-friendly beach called Hanalei Bay. It's great for beginner surfers. The ocean floor is made up of sand, so it's easier when you fall.
Additional Things to do in Kauai
Zipline
A once-in-a-lifetime experience, ziplining through the lush greenery of Kauai. The course includes 8 tracks.
✔️ Learn more about Ziplining through the lush Kauai forest ✔️
Makauwahi Cave
This is the largest limestone cave on Kauai. And the richest fossil site in Hawaii.
You have to crawl through a 3 ft high tunnel to get to the open area. But what's a little adventure? It's also super close to a beach.
Queens Bath
If you're in Princeville and looking for a relatively close and quick hike, try this. It isn't the easiest especially if you're hiking after rainfall.
But my four-year-old twin toddlers were able to finish it, so you can too! The views were also a great motivator.
Secret Beach
Another North shore favorite.
It's very similar to many Kauai beaches. It's only visible by hiking trails, but is it worth it? Hell yes.
Luau
If you didn't get a chance to do a luau on Ohau, Kauai also offers some amazing luau performances. We personally went to Luau Kalamaku. Since our twin boys were in tow, we also did the train tour around the garden and fed the animals.
Smith's Family Luau is also known to be amazing. Book this one in advance as it sells out quickly.
✔️ Learn more about Luau Kalamku ✔️
Is Kauai less expensive than the rest of the islands?
I'm going to let you in on a little secret. Less expensive and Hawaii should never be in the same sentence. It's an oxymoron.
There's little that can be classified as inexpensive in Hawaii. However, Kauai is 20-50% less than Maui and Oahu.
Is Kauai better than Maui?
As I mentioned earlier, there's no "better than the next." It's simply about your traveling style and what you value on a vacation.
Kauai is perfect for those outdoor travelers that are always looking for lush spaces and inhabited land like the Na Pali Coast.
Maui is perfect for beach lovers. People who enjoy a slower-moving beach town and local feel. Plus it has a few unique, once-in-a-lifetime experiences like Road to Hana and Haleakala, a dormant volcano.
Road to Hana
Road to Hana is an amazing experience with over almost two dozen stops along a 60+ mile stretch. This journey gives the unique opportunity to view, and sometimes indulge in breathtaking waterfalls and beaches, including black sand beaches. If you plan to add Maui to your itinerary during your 7 days in Hawaii, note that the Road to Hana is a full-day experience.
Please note that a rental car is required if you choose not to take a tour company. Some parts of the journey include a shared single lane for both directions and winding roads along a cliff edge.
If you're up for the challenge, you just might want to rent a car so you can enjoy the journey at your own pace. That's what my husband and I did.
✔️ Learn more about a Road to Hana Tour ✔️
Haleakala
Haleakala is another once-in-a-lifetime experience as the Haleakala National Park sits over 10,000 feet above sea level. So to see the sunrise or sunset from this vantage point is so unique.
We chose the sunrise as this experience is known as the best option out of the two. If you decide to see the sunrise, be sure to bring a coat. It's super cold that high up, that early in the morning.
And be sure to explore the park after viewing the sunrise. My husband and I did a 23-mile bike ride tour from the top. The best part is the bike ride is self-paced; I may or may not have ridden in the van for part of it 😜
If you plan not to do Haleakala with a tour, note that reservations are required.
✔️ Learn more about a Haleakala Sunrise Tour with Bike Ride ✔️
Conclusion: Hawaii 7-Day Itinerary
Seven days is enough time to fill your itinerary across one or two islands in Hawaii.
Deciding which island you go to and how long you spend at each really depends on the activities and vibe you're looking for.
If you're looking for more of the party and lively scene, then Honolulu, especially Waikiki Beach is for you.
If you're more of an outdoor enthusiast and like the green lush, then you won't be disappointed by Kauai.
I personally have been to Maui, for my honeymoon, Honolulu, for a girl's trip, and Kauai for a family trip and all were amazing. I honestly can't recommend one over the other. Each offers a unique aspect of Hawaii.